Christmas Around the World — South Africa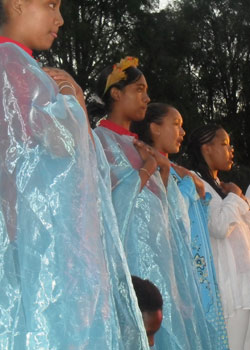 Christmas in South Africa is a summer holiday. Therefore the customs of Christmas observed in South Africa are different from those observed in the northern hemisphere. For children the Christmas season means a month-long break from school. Adults, on the other hand, plan trips to the beach, the river, or the mountains if they can get the time off from work.
A number of Christmas traditions celebrated by some South Africans reflect the country's heritage as a British colony. As the days of colonization slip farther into the past South Africa is developing its own Christmas customs.
Christmas decorations in South Africa display a simple elegance. Houses are decorated with pine branches. Inside the house a Christmas fir stands in a corner with presents placed around it.
On Christmas Eve children hang their stockings for Father Christmas to fill. Fruit, nuts, sweets, and other goodies fill the stockings as well as toys, in the homes of more well-to-do families, or more practical items, like school supplies, in other homes.
South Africans love to sing, especially during the Christmas season. Many will spend a portion of their Christmas Eve attending a Carols by Candlelight event full of singing and pageantry. They also form groups of carolers and sing throughout the neighborhood at homes and on street corners.
Christmas day dawns bright and warm. Many attend church services before beginning Christmas celebrations at home. Christmas day in South Africa is spent relaxing with family and friends. While gifts are given, mainly to family and a few select friends, gifts do not give meaning to the Christmas holiday.
By mid-day temperatures are rising causing many to decide to have an outdoor lunch instead of a larger Christmas dinner. Wherever the Christmas dinner is served the following foods are usually found: turkey, roast beef, mince pies, suckling pig, yellow rice with raisins, vegetables, and plum pudding.