Christmas Around the World — Philippines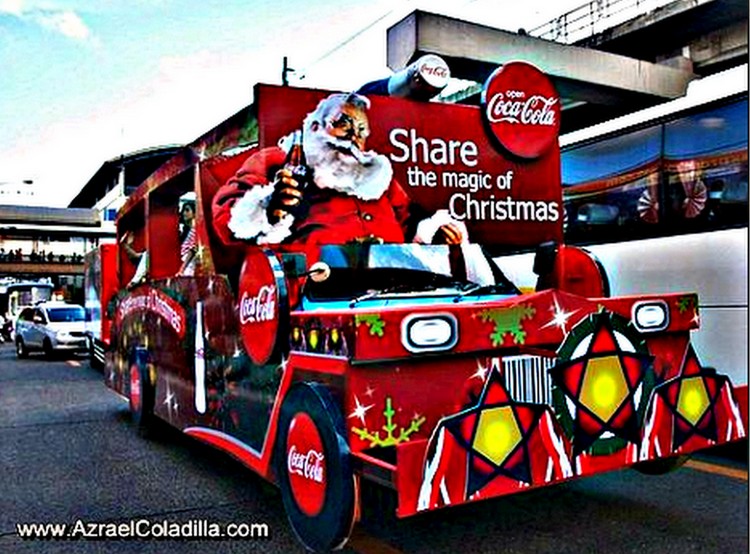 Is your Christmas celebration too short? Then celebrate Christmas in the Philippines. They have to longest Christmas celebration in the world. Lasting from December 16 to January 6 Filipinos celebrate family and religion like no other nation.
The cultural diversity of Christmas celebrations in the Philippines is great also. If one were to observe Christmas in the Philippines one would see Spanish, Chinese, Indian, British, and American Christmas customs interwoven with Philippine Christmas customs to make a truly unique Christmas celebration.
Beginning December 16 many attend a 4:00 A.M. mass. Everyday for nine days people leave their homes to attend this 4:00 A.M. mass. These masses are called Simbang Gabi, meaning Night Mass. These masses lead up to the Christmas Eve Midnight Mass celebrating the birth of the Christ child. These people do not have to worry about being late to mass. They may be wakened and hurried on their way by firecrackers, bands playing Christmas carols, carolers, or the village priest going door-to-door waking everyone for mass.
While Christmas carols may be heard on radios and sung in houses and on the streets in the days prior to December 16 they really take off on December 16. Groups of carolers, some raising money for civic organizations or church groups, are heard every day after December 16. Popular Filipino carols as well as English songs like "Jingle Bells" and "White Christmas" are sung and played for the enjoyment of all.
The Filipino people lavishly decorate for Christmas. Everything from homes to vehicles, churches to government buildings, stores to office buildings are decorated for Christmas. City streets and public squares are also adorned with buntings, lights, flowers, and more.
The most popular decoration found in every house, church, and public place is the parol. Made with bamboo sticks, brightly colored rice paper or cellophane, and usually sporting at least one tassel parols are usually star shaped with lights and, possibly, a nativity scene inside. Every house, whether in wealthy parts of town or in the poorest villages, is decorated with one or more parols often with every window displaying a parol. While some parols are purchased from stores or roadside stalls many families make their own. Parol-making is so popular in the Philippines that many towns, villages, and cities hold contests with big prizes going to the best parol entered.
Christmas trees are found in many Filipino houses; but because of the countrys proximity to the equator, real pine trees are rare and very expensive. Most people use artificial trees, use other trees or plants as Christmas trees, or make trees out of palm branches, triangular pieces of cardboard, or twigs bundled together in a cone shape spray painted gold, white, or green. No matter what is used for the Christmas tree, the tree is brightly decorated with tiny star lanterns, candies, fruits, carved wood or bamboo, painted shells, little baskets, tinsel, rice paper ornaments, empty matchboxes wrapped as presents, and, for some, artificial snow.
Filipinos are a very religious people. This is demonstrated by their attendance of nearly every mass during the Christmas season and by the fact that every home, every church, and many businesses and public buildings include a belen, or nativity scene among their decorations. Belens can also be found in their vehicles, like jeepneys the Filipino taxi or bus service. A common characteristic of these belens is that Baby Jesus is not placed in the manger until after the Christmas Eve Midnight Mass.
Christmas Eve day begins early with many attending the final Simbang Gabi mass. Everyone gives their home a thorough cleaning. New clothes are made ready for the Midnight Mass and Christmas Day. While this is going on, the house is filled with the aroma of food being prepared for the Noche Buena feast. Around 8:00 P.M. carolers appear calling parishioners to Midnight Mass. It is during this mass that the Baby Jesus is added to the belen. After mass everyone goes home to their Noche Buena feast. Children too young to stay awake during mass are wakened and the feasting begins.
Some families exchange gifts after eating. Others wait until Christmas day. Some children may hang stockings on the Christmas tree or near a window for Santa to fill (there are no chimneys for Santa to go down). However, Santa Claus is not the gift-giver. Children know their gifts come from a grandmother or Lola. Filipino gifts are usually something practical including food items, baked goods, clothing, games, toys, or money.
Christmas Day begins with mass for those who were not able to attend the Midnight Mass. After mass the day is spent visiting extended family and godparents. At each home more food and goodies are enjoyed. Children are given gifts at nearly every home visited. The noon meal is almost as big as the Noche Buena with a roast suckling pig, stuffed chicken, or Chinese ham on the menu.
Christmas Day begins a twelve day celebration of Christmas filled with parties and family gatherings. Public parks host concerts, puppet shows, and parol competitions and displays.
December 28 is Holy Innocents' Day commemorating Herod's killing all children under two years old in Bethlehem. It is a day of playing pranks on friends, family, and colleagues. Do not loan anyone money on this day. No loans procured on December 28 need to be paid back.
Fireworks are constantly heard all day New Year's Eve. Cities and towns put on large fireworks displays. The new year is welcomed with much noise and wishing others a "Happy New Year."
Many will attend either a New Year's Eve Midnight Mass or a New Year's Day Mass to have the new year blessed. Much like the Christmas Noche Buena feast a New Year's Eve media noche feast is eaten after Midnight Mass or at midnight. Ham is serves with many fruits, especially round fruits to assure them of a good year, and pastries. New clothes with round or polka dot patterns are worn on New Year's Day with the hope they will bring the wearer good fortune in the coming year.
The twelfth day of Christmas comes on January 6, the feast of the Three Kings also known as Epiphany. The celebration of Three Kings' Day is now a moveable holiday being celebrated on the first Sunday of January. Children place shined shoes near a window hoping the kings leave small gifts of toys, trinkets, and candy. In many towns and cities, the three kings parade through giving children gifts as well.
Thus ends the Christmas celebration in the Philippines. Some people include the celebration of the Chinese New Year making the Philippine Christmas celebration even longer.
Maligayang Pasko!