Christmas Around the World — Australia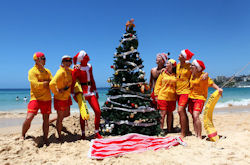 Christmas Down Under is quite different from Christmas in northern climes. Australia's Christmas customs are drawn from a unique blend of cultures, mixed with outback ingenuity, and a bit of hot weather. While people in the northern hemisphere experience cold temperatures and dream of white Christmases, Australians celebrate a sun-and-surf Christmas.
Events
The Christmas season arrives in Australia with much pomp and pageantry. Cities and towns all over the continent welcome the season with elaborate parades. Hundreds, even thousands, of people participate in these parades as costumed characters, bands, dancers, riders on amazing floats, and more. Hundreds of thousands more people line the parade routes to enjoy the sights and sounds of Christmas and to welcome Santa Claus.
In 1838 the town of Hahndorf was founded by German Lutheran families who brought their German traditions with them. On the night of December 5 the people of Hahndorf celebrate St. Nicholas Night. Santa Claus dressed in his bishop's apparel as St. Nicholas comes to town accompanied by two "Black Peters." They arrive in a candlelight parade giving treats to children along the parade route. As St. Nicholas passes the townsfolk join the pageant which ends at a candlelight caroling service. At the service people get to enjoy another German tradition as St. Nicholas passes out gingerbread men to the attendees.
Festivals are a big part of Australia's Christmas season. During the week before Christmas eve in Queensland the Christmas Lantern Festival is held. There are parades to watch, concerts to go to, dances to participate in, and nightly fireworks displays. Adults and children alike enjoy Christmas plays including an interactive "First Christmas" nativity scene where they can pet the animals and talk with the actors. The highlight of the Christmas Lantern Festival is "The Night the River Sings," a parade of decorated and lighted boats. Commercial and private boats cruise the Brisbane River competing for prizes.
Another major festival is Darling Harbour's 12 Days of Christmas festival in Sydney. Once again a parade, led by people dressed as Mary, Joseph, and Baby Jesus, opens the festival. Every night of the festival people take in a number of acts including acrobats, jazz musicians, barbershop quartets, actors, Christmas carolers, and rock-and-roll musicians.
Australians love to get together to sing Christmas carols. All across the continent in many towns and cities people gather to sing carols by candlelight. Carolers join large choirs, popular musical acts, as well as local church, school, and community groups for evenings full of good music under the calming light of dozens of candles. The best known gathering is held in Sydney's Royal Botanic Gardens at a natural amphitheater called The Domain. The Sydney Philharmonic Choir may, at times, be seen here. This is one of the events televised throughout Australia, New Zealand, and Southeast Asia. Revelers going to the "carols-by-candlelight celebration" held at the Emerald Lake Park can make the trek on the Puffing Billy Carol Train. Riders board the train in the town of Belgrade, 25 miles from Melbourne. A shiny steam engine pulls the train to the Emerald Lake Park where people enjoy and purchase food, Christmas goodies, and decorations as well as the singing. All proceeds from the ride benefit the William Angliss Hospital.
Christmas Eve
Christmas Eve is a time for preparing for Christmas day. While Christmas Eve is not a public holiday schools are closed and some offices close early. Stores stay open so the last-minute shopper can purchase all they need for the big day. Christmas Eve church services, as well as services held on Christmas Day, are well-attended. At St. Peter's church in Adelaide there is even a children's Christmas Eve service held late in the afternoon. Carol singing is a major part of these services.
As evening turns to night children hang their stockings on the bedposts or near the fireplace. Instead of cookies and milk, children in Australia leave chocolate cake or lamingtons, sponge cake cubes covered in chocolate icing and dried coconut, and ice-cold lemonade for Santa Claus and carrots, other vegetables, grass, and a bucket of cool water for Santa's reindeer.
Christmas Day
Christmas Day arrives in Australia's early summer months. Temperatures often range from 80 degrees Fahrenheit to 100 or more degrees Fahrenheit. In this heat it is no wonder that many Australians spend Christmas day out-of-doors at the beach or some other venue.
Upon waking up, children dive into their stockings filled with wonderful treats and other goodies. The presents under the tree, however, are left until the parents wake. After the tree is plundered families head to an outdoor celebration, to grandparents' home, or to an aunt and uncle's home for more presents and a wonderful Christmas dinner with the extended family. The beach is a favorite place for many Christmas celebrations, but one of Australia's many parks is also a choice place to spend the Christmas holiday. While the beach offers swimming, music, and pick-up games of volleyball and soccer, the park offers hiking, gaming, and lots of shade from the hot summer sun. No matter where one goes there will be some great picnicking going on.
Boxing Day
While Christmas day is spent with family Boxing Day, December 26, is spent enjoying sporting events. For Australians, Boxing Day is a major holiday filled with sporting events. Professional, semi-professional, and amateur events are played all day long. Boxing matches, sailing races, swimming matches, as well as biking and football (Australian rules, of course), volleyball, and cricket matches entertain millions. A major tennis tournament with participants from all over the world is held on December 26. The biggest sporting event, however, is the world-class Sydney-To-Hobart Yacht Race. This race covers 630 nautical miles from Sydney, down the east coast of Australia, across the Tasman Sea to Hobart, the capital of Tasmania.
Christmas in July
It is said that a group of Irish tourists visiting a resort town in the middle of Australia's winter season thought that since it felt like Christmas outside they wanted to experience Christmas inside. They asked to have a traditional Christmas dinner of roast turkey with all the trimmings served to them. The hotel went beyond the meal putting up some decorations to add to the Christmas feeling. Since then every July, the resort towns in Australia's Blue Mountains celebrate "Yulefest" or Christmas in July. The towns put up their Christmas decorations. Christmas music is heard. Trees are decorated. Gifts exchanged, and traditional hot turkey dinners with all the trimmings are served. Santa Claus makes an appearance at the festival also.
Decorations
In the weeks before Christmas people decorate their houses, inside and out, with a variety of items. While many traditional items like wreaths appear, there are a number of indigenous Australian plants used to adorn the house for Christmas. Some favorite plants used are wattle flowers, bottle brush, Christmas bells, and cuttings from the Christmas bush, a plant with dark green leaves and many red flowers that bloom just in time for Christmas.
At one time Australians did not decorate the outside of their houses very much except, perhaps, for hanging Christmas greens and other plants. Lately, however, more people are hanging lights and putting up yard ornaments. Nativity scenes, Disney characters, and Santa and his reindeer appear next to kangaroos, koalas, and other Australian animals.
The town of Lobethal has a special distinction when it comes to decorating for Christmas. Every house in Lobethal is trimmed with a fascinating Christmas lights display. The town also has a living nativity scene complete with cows, a donkey, and a dove.
Christmas tree
Christmas trees start appearing in houses, towns, and other public places in early December. While some use green or metallic artificial trees, many Australians are opting for real trees. The native Australian tree is the radiate plantation pine. The government grows them for Christmas and sells them to service clubs and charities to use for fundraising. Another Christmas tree option is decorated cuttings from eucalyptus trees.
Trees are festooned with a variety of traditional and handmade, native ornaments. Twinkling lights, glass baubles, garlands (known as tinsel in Australia), stars, Santa Clauses, and angels are popular tree decorations. For those wanting a more natural look for their Christmas tree, handmade ornaments made from exotic seed pods, gum nuts, and berries are the decoration of choice.
Every shopping center includes a tree among their Christmas decorating. Most of these trees stand from floor to ceiling, 30, 40, or 50 feet high. The Grace Brothers Department Store features a singing Christmas tree with more than 20 choristers singing for the shoppers.
Local companies of the towns of Exmouth and Adelaide decorate trees for the town's Festival of Trees. Each tree reflects the line of business the company engages in. Celebrity decorators trim the trees in Adelaide.
Santa Claus
One might think that Santa Claus would wear shorts, a light shirt, and flip flops when he appears in the land down under. Not so. In spite of the hot temperatures Santa still wears the traditional red suit, made of cotton instead of the heavier velvet cloth. He typically enters houses through the front door instead of coming down the chimney. He often comes to town riding in a speedboat, surfing the waves, riding a train, or flying through the skies in his sleigh pulled, according to a popular Australian Christmas carol, by 6 white boomers, kangaroos.
Christmas Feast
The first Christmas feasts held in Australia followed the British traditions of hot dishes and plum puddings. As time went on fewer people wanted to spend all that time hovering over hot stoves to eat hot meals in hot houses when they could be outside enjoying the sun and surf. They still served turkey and other meats but served them cold as part of outdoor buffet luncheons or picnics. After World War 2 and all the immigration that followed, the Christmas feast became influenced by many cultures, including Greek, Italian, Asian, Lebanese, Turkish, Balkan, Hungarian, and Spanish. As time goes on more and more "home-grown" Australian food is finding its way into the Christmas feast.
The traditional Christmas feast includes cold ham, chicken, duck, and other meats, squid, oysters, salmon, prawns, and other fresh seafood grilled to perfection. Vegetables, salads, apricots, peaches, plums, bananas, grapes, mangos, melons, and bowls of berries and cherries round out the Christmas fare. Add to that possum, crocodile, kangaroo, emu, and other tasty Australian berries, nuts, and herbs and you have a Christmas feast that is as diverse as the country it that serves it.
To wash down this sumptuous feast adults drink Australian champagne, wine, and beer while children drink lemonade and soft drinks. For dessert plum pudding, pavlova, and various fruits are served.
12 Days of Christmas
The next time you sing the 12 Days of Christmas, try this Australian version.
12 koalas clowning
11 lizards leaping
10 dingoes dancing
9 numbats knitting
8 quokkas cooking
7 mice a-marching
6 penguins peeping
5 crocodiles
4 pelicans
3 lorikeets
2 wallabies
1 a bellbird in a flame tree